> > > Moritzplatz
Moritzplatz (Station)
U-Bahnhof Moritzplatz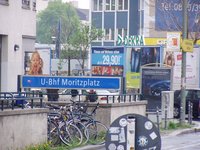 Moritzplatz is a station on Berlin's U-Bahn line U8 located in Kreuzberg's SO36 district.
History
Moritzplatz was opened on April 26, 1928. Originally the station was to have been located beneath the nearby Oranienplatz, but the Wertheim department store, which had a branch on Moritzplatz, apparently arranged for the station to be constructed here. Parts of the planned Oranienplatz station still exist and can occasionally be visited.
Moritzplatz was built as an interchange station and has corresponding dimensions, which far exceed those required for current-day usage. Originally a planned but never built U-Bahn line between Treptow and Moabit was to have crossed the contemporary U8 here; in the 1930s National Socialist planning envisaged an underground S-Bahn line connecting Görlitzer Bahnhof and Anhalter Bahnhof passing beneath Moritzplatz. This S-Bahn route was never built, but the outer tracks in the subterranean Anhalter Bahnhof were intended for this line.
Convenient for
Fare Zone
Moritzplatz is in VBB fare zone A.
Route