Moritzplatz
Moritzplatz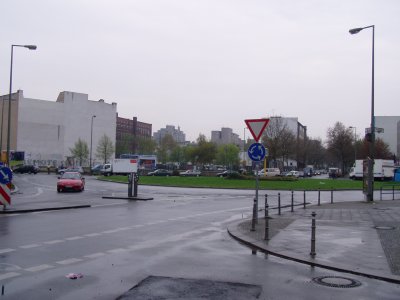 Before the Second World War, Moritzplatz was a busy shopping area at one end of Oranienstraße. Such was the attractiveness of the area that the owners of one business paid extra to have a planned underground line moved so they would have a station directly in front of their department store
However, following air raids on February 3 1945 the area was heavily damaged and Moritzplatz in particular never recovered. This was partly due to the division of Berlin, putting Moritzplatz and the area of Kreuzberg to the east - once an integral part of Berlin's old city centre - in a fairly isolated corner of West Berlin. Also, for a time post-war planning envisaged an urban motorway passing through this area with a junction on the site of Moritzplatz, making any reconstruction plans unviable.
The contemporary Moritzplatz offers little of interest, although it provides convenient transport connections for Oranienstraße. It is close to the former border crossing Heinrich-Heine-Strasse.
Access
Moritzplatz is served by U-Bahn station Moritzplatz and bus M29.