> > > Television Tower
Television Tower
Fernsehturm

The Television Tower (TV tower, Fernsehturm) is Berlin's tallest and most prominent structure, visible from many parts of the city.
Constructed between 1965 and 1969 in the former East Berlin, the Television Tower is 368 metres tall, making it Europe's second tallest strucure (only Moscow's Ostankino Tower with 540 metres is taller). The tower was renovated in 2001 but has retained its original character, including an interior design which is very "Sixties sci-fi" - in some areas you wouldn't be surprised to see the crew of Star Trek pass by.
Facilities
Two floors are accessible to the general public: a viewing platform / observation deck at 203 metres, and a revolving restaurant / cafe at 207 metres.
Tip: dine in the restaurant on a clear evening: you have a fantastic view over nighttime Berlin.
The Television Tower can also be rented for wedding ceremonies.
Location and opening times
The Television Tower has the following opening hours:
March - October: 9.00 am - midnight
November - February: 10.00 am - midnight
The nearest stations are Alexanderplatz (Station) and Hackescher Markt (Station). Bus stops Spandauer Strasse and Alexanderplatz (buses 100 and Bus 200 ) are within close walking distance of the tower.
Entrance is €8 for adults and €3.50 for children. Note that the tower is not accessible to wheelchair users for safety reasons.
Television Tower
Panoramastr. 1A
10178
Berlin
Germany
Tel.: (030) 242 33 33
Fax: (030) 242 59 22
Trivia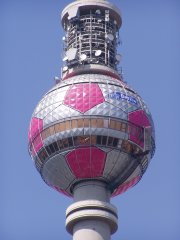 For the 2006 World Cup the tower's spherical section was decorated with magenta pentagonal transfers to make it look like a large football. Unfortunately the effect is only really effective from certain angles and is not helped by the use of magenta, which is the main brand colour of the tower's current owner and major World Cup sponsor, Deutsche Telekom.
"The Pope's Revenge": often sunlight falling on the tower's spherical section creates a distinct and very visible cross: this was considered very ironic given the GDR's strict atheist ideology.
The tower's construction was originally a state secret: there was no official planning application or construction permission, and no ground-breaking ceremony. (Of course the tower's existence didn't remain secret long).
Some photos of the tower's construction and opening are available here.
Alexanderplatz (Station) (0.2 km), World Time Clock (Weltzeituhr) (0.2 km), St. Marienkirche (0.3 km), Rotes Rathaus (Red City Hall) (0.3 km), Alexanderplatz (0.3 km), Hotel Park Inn (0.3 km), Alexa (0.4 km), Thalia (Alexa) (0.4 km), LOXX Modelleisenbahn Berlin (0.4 km)