> > > Gendarmenmarkt
Gendarmenmarkt
Gendarmenmarkt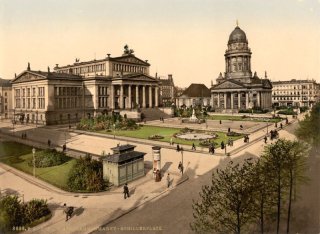 The Gendarmenmarkt is Berlin's most attractive square. Inspired by the Piazza del Popolo in Rome, it's the setting for the Concert Hall and the twin German and French Cathedrals.
History
The square originated in the late 17th century, when it was known as the Linden-Markt. The current name, dating from 1735, derives from a former Prussian regiment, the Gens d'Armes, which was based here until 1773. The square's current form dates from the end of the 17th century. During the Second World War it was heavily damaged, and by the 1980's only partially reconstructed. Although now fully restored, it seems one or the others of the square's major buildings is always having repairs done to it.
Note: between 1950 and 1991 the square was named Platz der Akademie.
Belgian Embassy (0.1 km), Peruvian Embassy (0.1 km), Liechtenstein Embassy (0.1 km), Hausvogteiplatz (Station) (0.2 km), Slovenian Embassy (0.2 km), Französische Straße (Station) (0.3 km), Stadtmitte (Station) (0.3 km), Slovakian Embassy (0.4 km), Hugendubel (Friedrichstraße) (0.4 km)