> > > Alexa
Alexa
Alexa, August 2007. The scaffolding in front is the framework for an architectural feature.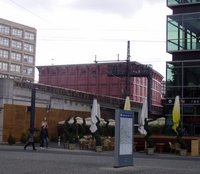 Alexa
If you've passed by the southern end of the Alexanderplatz recently (for example on the S-Bahn between Jannowitzbrücke and Alexanderplatz stations), you can't have missed the huge building site from which a remarkably ugly-looking structure is arising. This is the Alexa shopping centre (shopping mall), which opened on September 12th, 2007.
The Alexa, a project of the Portugese investment group Sonae Sierra, will offer around 175 stores, including the the usual range of retail stores (together with Europe's largest branch of MediaMarkt) as well as extensive leisure and entertainment facilities. It won't have a cinema however - the area is already well served by the nearby Cubix. One feature will be the giant model railway exhibition LOXX Modelleisenbahn Berlin, which has moved there from its previous location just off the Ku'damm.
The architecture is supposedly Art Deco, though in the author's untrained eyes it resembles the kind of Art Deco favoured by the former GDR during its latter phase: prefabricated concrete parts which look cheap. The interior is quite nice as malls go, though.
Access
Note that some areas of the centre have different opening hours; the shops in the basement are open from 8am, while the food court is open from 10am to 11pm.