Districts and Neighbourhoods
Berlin is divided into twelve boroughs (Bezirke), each with its own mayor and council. Each borough consists of a number of neighbourhoods (Stadtteile), which have no administrative function but which residents can identify more easily with.
Note: until 2001 Berlin had 23 boroughs, which have been merged into the current twelve to reduce adminstation costs.
The boroughs are, in alphabetical order:
Borough
Population
30th September, 2006
Area
in km²
Charlottenburg-Wilmersdorf
315,244
64.72
Friedrichshain-Kreuzberg
264,922
20.16
Lichtenberg
258,964
52.29
Marzahn-Hellersdorf
249,882
61.74
Mitte
325,629
39.47
Neukölln
305,658
44.93
Pankow
356,956
103.01
Reinickendorf
243,536
89.46
Spandau
224,408
91.91
Steglitz-Zehlendorf
288,572
102.50
Tempelhof-Schöneberg
332,091
53.09
Treptow-Köpenick
236,450
168.42
Map
The map below shows Berlin's current boroughs (Bezirke), overlaid over the traditional boroughs: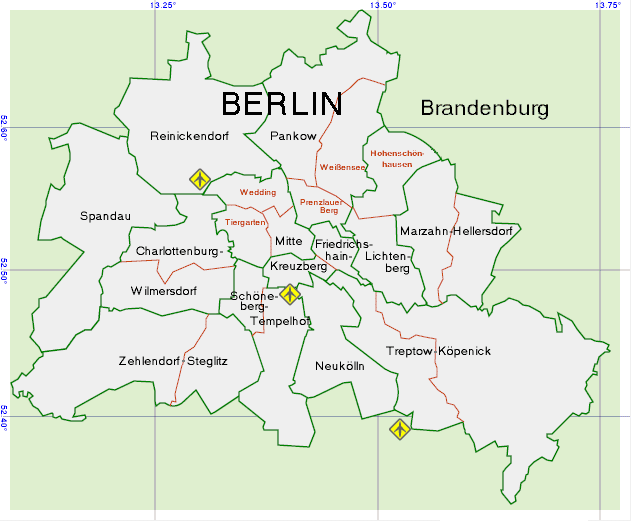 The current districts are marked with green borders and names in black. Where a current district has been merged from several older districts and has changed its name the old borders and names are shown in red. For example, the current borough of Mitte is formed out of the old boroughs of Mitte, Wedding and Tiergarten. In the case of boroughs which have joined and retained both old names, e.g. Treptow-Köpenick, the names appear above the respective old borough.
Neighborhoods
Each district (Bezirk) is divided into a number of neighbourhoods, listed below. The numbers are the official identity numbers defined by the city administration.
02 Friedrichshain-Kreuzberg

0201 Friedrichshain
0202 Kreuzberg
03 Pankow

0301 Prenzlauer Berg
0302 Weißensee
0303 Blankenburg
0304 Heinersdorf
0305 Karow
0306 Stadtrandsiedlung Malchow
0307 Pankow
0308 Blankenfelde
0309 Buch
0310 Französisch Buchholz
0311 Niederschönhausen
0312 Rosenthal
0313 Wilhelmsruh
04 Charlottenburg-Wilmersdorf

0401 Charlottenburg
0402 Wilmersdorf
0403 Schmargendorf
0404 Grunewald
0405 Westend
0406 Charlottenburg-Nord
0407 Halensee
05 Spandau

0501 Spandau
0502 Haselhorst
0503 Siemensstadt
0504 Staaken
0505 Gatow
0506 Kladow
0507 Hakenfelde
0508 Falkenhagener Feld
0509 Wilhelmstadt
06 Steglitz-Zehlendorf

0601 Steglitz
0602 Lichterfelde
0603 Lankwitz
0604 Zehlendorf
0605 Dahlem
0606 Nikolassee
0607 Wannsee
07 Tempelhof-Schöneberg

0701 Schöneberg
0702 Friedenau
0703 Tempelhof
0704 Mariendorf
0705 Marienfelde
0706 Lichtenrade
09 Treptow-Köpenick

0901 Alt-Treptow
0902 Plänterwald
0903 Baumschulenweg
0904 Johannisthal
0905 Niederschöneweide
0906 Altglienicke
0907 Adlershof
0908 Bohnsdorf
0909 Oberschöneweide
0910 Köpenick
0911 Friedrichshagen
0912 Rahnsdorf
0913 Grünau
0914 Müggelheim
0915 Schmöckwitz
10 Marzahn-Hellersdorf

1001 Marzahn
1002 Biesdorf
1003 Kaulsdorf
1004 Mahlsdorf
1005 Hellersdorf
11 Lichtenberg

1101 Friedrichsfelde
1102 Karlshorst
1103 Lichtenberg
1104 Falkenberg
(until 2002:) 1105 Hohenschönhausen (renamed to 1110 "Alt-Hohenschönhausen" in 2002)
1106 Malchow
1107 Wartenberg
1109 Neu-Hohenschönhausen (created in 2002 from 1104, 1106 and 1107)
1110 Alt-Hohenschönhausen (created in 2002 from 1105 "Hohenschönhausen")
1111 Fennpfuhl
1112 Rummelsburg
12 Reinickendorf

1201 Reinickendorf
1202 Tegel
1203 Konradshöhe
1204 Heiligensee
1205 Frohnau
1206 Hermsdorf
1207 Waidmannslust
1208 Lübars
1209 Wittenau
1210 Märkisches Viertel