> > > Neues Ufer
Neues Ufer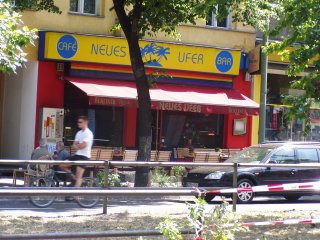 The Neues Ufer (called the Anderes Ufer until June 2003) is one of Schöneberg's older gay cafés, established during the 1970s, and famous for its connection with David Bowie. It has the relaxed atmosphere of a traditional café, making it a good place to get away from the general scene. However in the evenings it becomes more of a bar and can be quite crowded, particularly on warm summer evenings.
Anderes Ufer and David Bowie
David Bowie lived just up the road at Hauptstraße 155, and was a regular customer at the Anderes Ufer. Legend has it he would pop in in the afternoon for a spot of breakfast, and late in the night for a drop of whiskey. A photo of the star now adorns one corner of the bar.
Neues Ufer
Hauptstraße 157
10827
Berlin
Germany
Tel.: (030) 7895 7900
Opening hours: 11am - 2pm
Kleistpark (Station) (0.0 km), Yorckstraße (Großgörschenstraße) (Station) (0.6 km), The Shannon (0.7 km), Bülowstraße (Station) (0.8 km), Yorckstraße (Station) (0.9 km), Kurfürstenstraße (Station) (1.0 km), Mann-O-Meter (1.1 km), Nollendorfplatz (Station) (1.1 km), Windows Café (1.2 km)