Sunday, July 16, 2006
Sommerloch officially begins
By tradition the middle of June marks the beginn of the Sommerloch (literally summer hole), that period when schools and politicians finish for the summer holidays and the only news is the kind of scurilous, vacuous and empty-headed stuff specialized in by the Bild newspaper.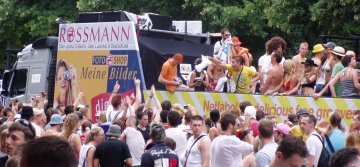 The Love Parade has some really cool sponsors
such as the drug store chain Rossmann. It's somehow appropriate that the Love Parade coincides with the start of the Sommerloch, being the kind of event which attracts vacuous and empty-headed - not to mention possibly scurrilous - people, primarily provincial youth who value the opportunity to use the Tiergarten as a giant toilet while having their DNA subtly rearranged by high-decible music at about 240bpm.
In the spirit of investigative journalism, and because I was going that way anyway, and also in the vague hope of espying some attractive booty, I donned my fluorescent fluffy boots and equally fluorescently fluffy man-bikini and boogied on down (as, I believe, the young people of today prefer to put it) to the Strasse des 17. Juni. And, well, it seems the Love Parade has definitively lost its cool. While there were a fair number of people - I'd say a couple of hundred thousand, but not the million the organisers claimed - a fair proportion were distinctly non-Love-Parade-typical, i.e. your typical tourist, or Berliner: people who'd just come along to see what all the fuss was about. (Not much, even if one young lady on one of the wagons did provide a display of her mammary assets). Ferchrissake, there were parents with kids in pushchairs, and even one old lady pushing her equally elderly husband along in a wheelchair.
In fact, I'd say this is the first time I've been to a Love Parade where I (as an uncool, non-techno person - OK, I lied about the man-bikini) didn't feel particularly uncomfortable or out of place. I'd go as far to say that the rumours flying around that next year's parade will include a wider variety of music - including German Volksmusik - might not be all that far fetched.
UPDATE: looks like my estimate on the numbers was not too far off: according to RBB the police counted about 500,000; the Tagesspiegel on the other hand says the police counted about 340.000.