> > > Berlin Brandenburg International
Airport Berlin Brandenburg International (BBI)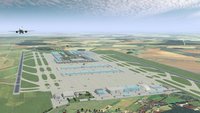 Simulated bird's eye view
of the new airport
The Berlin Brandenburg International Airport (BBI) will be Berlin's new central airport, taking over from Tegel, Schönefeld and the now-closed Tempelhof. It is currently being built on and next to the site of the existing Schönefeld Airport, but completion has been delayed time and time again. Previously scheduled to open on October 27th, 2013, the airport will now not be opened until some time in 2014 - the fifth postponement. Reasons for the delay include the need to adapt the airport to new regulations, the resulting bankruptcy of subcontractors and most recently problems with the fire safety system.
IATA Code
The new airport's IATA Code will be BER.
Access
BBI will be served by a range of public transport options, including bus, S-Bahn and regional trains. Trains will stop at Flughafen Berlin-Brandenburg station, currently under construction. BBI will not have an connection; nearest station is Rudow on the U7, around 10 ~ 15 minutes away by bus.
A new Airport Express train (RE9 linking BBI with Berlin's Berlin-Hauptbahnhof via ) will be introduced, linking the airport with the centre of Berlin.
Airport tours
Guided tours of the airport construction site are available - see here for details.
Observation Tower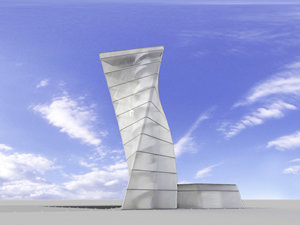 New "Infotower"
For visitors interested in the BBI construction site, an observation tower ("Infotower", see image on the right) has been constructed. However access is limited to four organised tours daily, at 10.30am, 12:30pm, 2:30pm and 4:30pm at a cost of 10 Euros per vistor (child discounts available). More information is available on the BBI's website here. Note that opening times are subject to change at short notice - check with BBI before making a trip.
References
The Berlin-Brandenburg airport authority has more details on its website:
Images: BBI