Thursday, May 24, 2007
New Terminal C opened at Tegel Airport (TXL)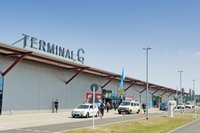 Tegel's new Terminal C
Berlin might be getting a brand new airport - the BBI - in a few years time, which will replace the city's exisiting airports, but that hasn't stopped construction work at the city's mainTegel Airport, which is bursting at the seams.
Latest addition is the new Terminal C, opened on May 22. As Tegel is scheduled to closed in a few years time, it's a fairly temporary structure - of the pre-fabricated warehouse school of architecture - and with fairly basic facilities: apart from the 18 check-in counters there's a duty-free shop and some fast food restaurants. The new terminal will mainly service flights by Air Berlin.
Terminal C is located to the east of the main building - on the right as you approach the airport from the front, past the control tower. It's about 50 metres away by foot from the main building and currently somewhat hard to find, as construction work is still continuing in the area. Passengers must go outside of the main building to get to Terminal C, and there is no covered walkway.
Historical note: originally two terminals were planned for Tegel: the existing hexagon-shaped main building, and a second terminal as its mirror image, which would have been built where Terminal C now stands.