Friday, September 22, 2006
Berlin-Splitter (7)
Another week, another Friday: more Berlin-Splitter.
Berlin's largest "brothel", Artemis (link not work safe), (apparently a vast sauna / "wellness" club with very lax clothing rules and a lot of freely circulating ladies near the Messe Berlin), has placed adverts on three BVG buses in Berlin. No-one is in the least shocked.
The Berlin elections are over, thankfully, and all those beautiful posters will soon be disappearing. Gay mayor Klaus Wowereit will be staying in office, but possibly with a different coalition partner. In Pankow every 10th election worker failed to turn up, so the count was delayed by half a day: the district election office will be dealing out fines of up to €1000 to those without a very good excuse.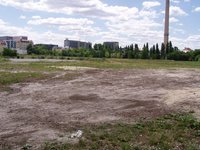 The
spooks are coming to Berlin
: construction of the new headquarters for the BND (
Bundesnachrichtenzentrale
, Germany's intelligence agency) will begin in October at a site on the
Chausseestrasse
near U-Bahn station
Schwartzkopffstrasse (Station)
(photo right).
The Hackesche Höfe celebrated their hundredth anniversary this week: the party begins on Saturday at 2pm. A flyer with details (German only) is available here.
Berlin is becoming increasingly international: almost 10,000 more non-Germans are living here than there were a year ago, bringing the total up to 463,723. The majority, almost a quarter, are still Turks, but their numbers are declining (partly due to naturalisation), while the Poles are catching up fast. Residents from Serbia / Montenegro make up the third largest group.
Foreigners aren't the only new residents flocking to Germany's capital: the city has registered an increase of wild animals such as wild boars. During the last hunting year a record 350 died or were injured in traffic accidents, so presumably there are many many more rooting around in suburban parks and gardens.
The city is also getting busier: the S-Bahn is running more trains on some routes (S-Bahn Line S3, S8, S41/42 and S47) during the peak travel periods from October 9.