Tuesday, August 21, 2007
Federal Government Open Day
On the weekend of August 25 / 26, the Federal Government is throwing open its doors to all and sundry, i.e. the common people like you and me, so we can go sniffing round their offices - for free. It's called Tag der offenen Tür (literally "Day of the Open Door") and All the major ministerial buildings in the centre of Berlin, as well as the Federal Chancellery will be "open" - although usually with some sort of event going on in the garden / courtyard, and carefully controlled guided tours through the respective building itself.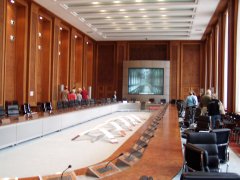 Conference room in the Finance Ministry Unless you're particularly into German politics, the ministeries themselves are of limited interest. Some are located in historical or architecturally interesting buildings which are worth a visit. I can particularly recommend the Foreign Ministry and the Ministry of Finance, both of which are housed in buildings dating from the Nazi era.
The majority of locations will be open on both days between 10am and 6pm. Two routes with free shuttle buses will link various locations. In some of the more important facilities there will probably be airport-style security checks, and you will need to have your passport or other identity document with you.
Further Information
The Federal Government has a web page in German only; a PDF file can be downloaded here which contains a map of all the locations.